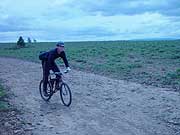 L.T. Murray Wildlife Area offers wide-open spaces and a network of remote dirt roads just west of Ellensburg. This wildlife reserve is expansive and spans several varieties of habitat from semi-arid shrub-steppe and grassland at the forest edge to mixed forest land. L.T. Murray Wildife area is closely connected to the Wenas Wildlife Area and Oak Creek Wildlife Area to the south, and the Quilomene and Whiskey Dick areas to the east.
L.T. Murray is best known for its large herd of Rocky Mountain elk, which helps explain why the high fence was built along interstate 90 along the Wildlife area. The wildlife area also provides living space for bear, mule deer, coyote, a great variety of migratory and local birds, and outstanding wildflower displays. Rattlesnakes are relatively common during late spring and summer at lower elevations.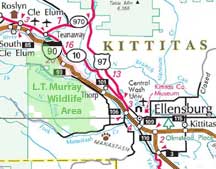 L.T. Murray Wildlife Area provides plenty of room to wander, or mountain bike, or just drive dirt roads if open and explore with a cup of hot coffee splashing the console. The area also offers rough, remote campsites to pitch tent and camp with some room to breath.
The area is managed mainly to provide healthy habitat for wildlife. Activities in the area might include birding, butterfly watching, photography, hiking and horseback riding, mountain biking, fishing, hunting in the fall and (if it's not closed off) cross-country skiing winter to early spring. Care should be taken not to disturb the wildlife-- for example state law prohibits letting dogs run loose on wildlife lands when wild species are raising their young during spring and summer months, and the area may be closed to access in spring.
For more information about this wildife area, the Washington Department of Fish and Wildlife site listed at the left of the page provides great information. Links to other, more in-depth information are provided as well as nearby open spaces and recreation areas. Be sure to bring your Washington Department of Fish and Wildlife vehicle use permit to avoid risking a $66 parking ticket - they can be purchased at fishhunt.dfw.wa.gov.