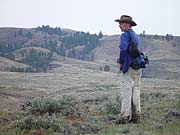 Wenas Wildlife Area offers creek hikes and big views of rolling ridges and the Yakima River Canyon just south of Ellensburg. This wildlife reserve includes several types of habitat from semi-arid shrub-steppe and grassland to pine forest. The boundary between shrub-steppe and pine woods supports a rich variety of bird life and gives the area an outstanding reputation for birdwatching.
Wenas Wildlife Area supports a significant population of California bighorn sheep, and also Rocky Mountain elk and mule deer. The area is used heavily as a stopover by migratory birds during springtime, and supports many resident bird species year round. During winter, bald eagles are common residents in the Yakima Canyon and tributary canyons. Rattlesnakes are relatively common during late spring and summer at lower elevations.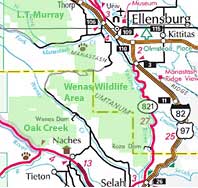 Several hiking trails are in the area including the Yakima Rim Skyline Trail, Umtanum Canyon and Rosa Creek. The area is also prime for wide-open wandering on Umptanum Ridge and Manashtash Ridge. These trails and ridges are detailed in the Mountaineer's 55 Hikes in Central Washington.
The area is managed mainly to provide healthy habitat for wildlife. Activities in the area might include birdwatching, butterfly watching, photography, hiking and horseback riding, mountain biking, fishing, hunting in the fall cross-country skiing winter to early spring. A cool combo trip might include flyfishing the Yakima and hiking up one of the side canyons or up a ridge to catch some views and see the local flora and fauna.
However, care should be taken not to disturb the wildlife. State law prohibits letting dogs run loose on wildlife lands when wild species are raising their young during spring and summer months. Leaving pets at home is a sensible way to keep them safe from rattlesnakes too.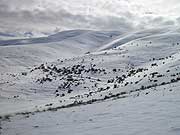 Wenas Wildlife Area is closely connected to the L.T. Murray Wildife area to the north and Oak Creek Wildlife Area to the south. Apart from its stands of Oregon white oak trees, Oak Creek is well-known for its winter elk herd, which can be seen at feeding stations by ski or snowshoe.
For more information about these wildife areas, the Washington Department of Fish and Wildlife site listed at the left of the page provides great information. Links to other, more in-depth information are provided as well as nearby open spaces and recreation areas. Be sure to bring your Washington Department of Fish and Wildlife vehicle use permit to avoid risking a $66 parking ticket - they can be purchased at fishhunt.dfw.wa.gov.