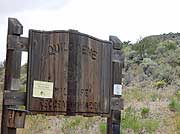 Quilomene Wildlife Area spans "the breaks" between the Columbia River and pine-dotted eastern foothills of the Cascade Mountains, an area of shrub-steppe ridges and numerous wild creek valleys. The Quilomene area is located north of Vantage, south of Wenatchee and east of Ellensburg. It has a network of primative roads suitable for four-wheel drives or alternative transportation such as mountain bikes, horses, or foot travel.
The area is connected with the Colockum Wildife Area to the north, includes the Whiskey Dick Wildlife Area in its south half. The Whiskey Dick area is next to the Ginko Petrified Forest State Park and the old Vantage Highway, just north of the Yakima Firing Range.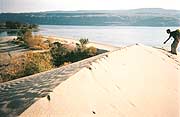 The Quilomene Wildlife Area offers year-round habitat for a variety of wildlife including Rocky Mountain elk, California bighorn sheep, mule deer and coyote. The area also supports birds such as quail, chukar, grouse, hawks, eagles, and many songbirds. Washington Audubon Society has designated Colockum-Quilomene area an Important Bird Area in Eastern Washington (p 44 of 58 Acrobat). The area also offers excellent wildflower displays in springtime with expansive ridge views of creek valleys and the Columbia River below.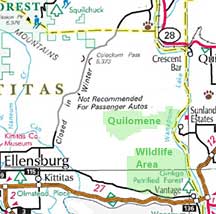 Quilomene Wildlife Area is managed (or should be managed as the case may be) to provide space for wildlife as its primary goal, particularly the large Colockum elk herd-- but also the myriad web of smaller creatures that rely on an undamaged ecology for their survival.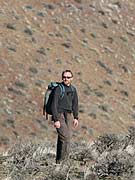 Activities including birding, butterfly watching, hiking and horseback riding, mountain biking, photography, fishing, and hunting in the fall. Several remaining dirt roads in the wildlife area are excellent for mountain biking, and it's entirely possible, though not so safe, to find yourself surrounded by elk as you ride. The area also offers rough, remote campsites to pitch a tent and hang your hat. Care should be taken not to disturb the wildlife, however-- for example, state law prohibits letting dogs loose on wildlife lands when wild species are raising their young during spring and summer months.
During spring weather changes, the Quilomene area gets very windy -- it's wise to pack windproof outer clothing and in spring and fall, balaclava to protect against wind chill. Due in part to its distinction as the windiest area of the state, a wind farm of more than 150 turbine generators has been built in the area, each 400 feet tall and having 220-foot blades.
For more information about this wildife area, the Washington Department of Fish and Wildlife site listed at the left of the page provides great information. Links to other, more in-depth information are provided as well as nearby open spaces and recreation areas. Be sure to bring your Washington Department of Fish and Wildlife vehicle use permit to avoid risking a $66 parking ticket - they can be purchased at fishhunt.dfw.wa.gov.