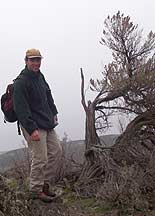 Ancient Lakes and Dusty Lake are located in the coulees of the Quincy Wildlife Area between the towns of George and Quincy, Washington. The lakes are accessible by foot or horse only and provide plenty of open space for wandering and pondering, despite being surrounded on all sides by unseen farms and orchards.
The Quincy Wildlife Area is a rolling, gouged landscape with broad flats bounded by basalt cliffs, very much like the Dry Falls area further east. One can imagine the epic floodwaters pouring over the headwall into Potholes Coulee, scouring out the plunge-pools of Ancient Lakes-- and it's the sense that one could be far, far away in time or location that gives this place its appeal. Except for a powerline or two that might be visible, depending on your vantage point.
Dusty Lake is a major attraction to fishermen, due to its reputation for large trout -- from a 1998 Dept of Fish and Wildlife news release, "about 50 percent of the fish caught here are 15-20 inch carryovers" -- and perhaps partly to the novelty of its past brown trout stocks. Dusty Lake was rehabilitated in fall of 1999 to offer only rainbow trout, and continues to draw hordes of fishermen for the spring opener and afterwards. The whole of Quincy Wildlife area is also known to be well-travelled during hunting season, as it sustains a wide variety of migratory waterfowl and introduced game birds such as pheasant, chukar and partridge.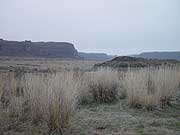 Yet, it's easy to find good hideaways to pitch a tent among its rolling terrain, benches and mesas -- places to squat on hams and draw shapes in the dirt using the few unburned sticks, perhaps grunting among companions, or family members, before setting out on a foray. For apart from fishing and hunting, the thing to do in this classic coulee is to wander, in search of aridland wildflowers, birds and other creatures, geologic formations and sweeping views...glimpses of things that take us back to less complicated times.
Spring wildflowers in the coulee include sagebrush mariposa lily, yellow paintbrush, arrowleaf balsamroot, nootka rose and mock orange. Later in the summer, western clematis and various wild buckwheats will be in bloom and in the fall, rabbit brush. Big sagebrush and bunchgrasses abound.
A variety of birds live or stop to rest at the Quincy Wildlife Area in season such as Canada geese, teals and ducks, pelicans, swans, sandhill cranes, yellow-headed and red-wing blackbirds, meadowlarks, horned larks, killdeer, sage thrashers, cliff swallows, and soaring birds such as turkey vultures and hawks.
At night, coyotes howl while bats flit about catching insects.
Directions
For more information about this wildlife area and its lakes, including driving directions, nearby campgrounds, photos and hike ideas, visit excellent related sites listed at the left of the page. You'll need a Washington Department of Fish and Wildlife vehicle use permit to park, or risk a ticket - they can be purchased at fishhunt.dfw.wa.gov.
Note to sportsmen and hikers: this area is suffering from too much litter strewn about. For those with backcountry ethics, presence of mind, and will, please make extra room on your pack to hike out beer cans, bottles and other garbage left by some.