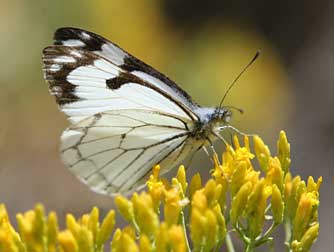 Pine white butterfly or
Neophasia menapia
Pine white butterflies or Neophasia menapia take flight in eastern Washington in late summer, sometimes in such great numbers they look like tissue paper confetti going up and down the trees.
Pine whites evolved to rely on conifers as their host plant, with their caterpillars feeding on the green needles of the host while the adult butterflies look for nectar from summer-blooming flowers such as gray rabbit brush, green rabbit brush or snow buckwheat. Host trees include ponderosa, lodgepole and white pine, Douglas fir and reportedly mountain hemlock and Sitka spruce.
Pine white identification
The best method of identification for pine white butterflies is to look at the pictures and match up flight times (mid to late summer). This species can be found on either side of the Cascade Mountains, and geographic distribution may be widespead following windstorms. The pine white is about the size of a cabbage white butterfly, having a 1-3/4" wingspan give or take. This white butterfly has black hind wing veins while the the forewing tips have deep black markings and a curved black finger midway along the costa, or forewing edge.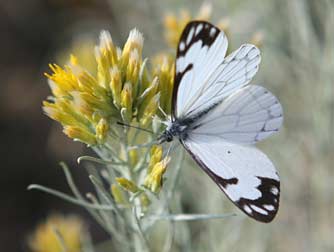 Pine white butterfly, late August
nectaring on gray rabbitbrush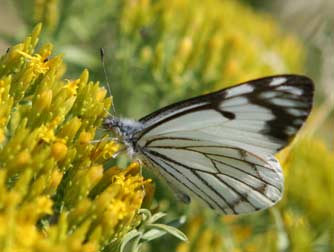 Pine white butterfly, late August
nectaring on green rabbitbrush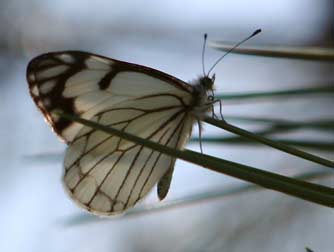 Pine white butterfly
landing on ponderosa pine needles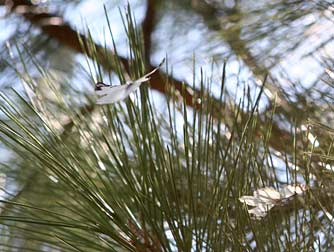 Pine white butterflies
fluttering around a ponderosa pine tree, Lake Roosevelt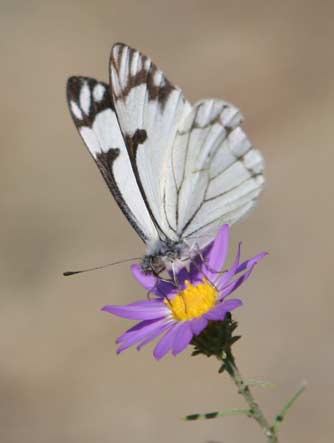 Pine white butterfly, August
nectaring on an invasive knapweed flower