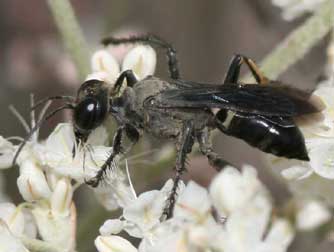 The black grasshopper hunter or prionyx wasp is a beneficial insect of the shrub-steppe ecosystem, as an active, natural check on grasshopper populations and as a plant pollinator. I've seen a black prionyx trying to fly away carrying a Carolina grasshopper on cool a summer morning, when the hoppers still moved slowly.
Adult wasps feed on nectar from flowers that bloom from spring, through the summer and into the fall including fruit trees, buckwheats, white forget-me-not, Douglas' dustymaiden, and rabbitbrush.
Black prionyx wasps range throughout the United States and southern Canada, inhabiting open areas where grasshoppers live and the digging is easy.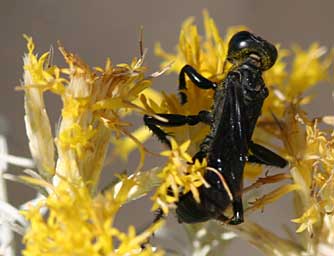 Black Grasshopper Hunter Wasp nectaring on rabbitbrush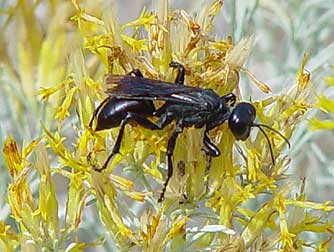 Black Grasshopper Hunter Wasp