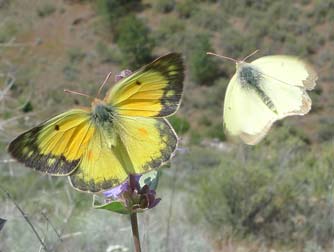 Orange sulphur butterfly or
Colias eurytheme
Orange sulphur or Colias Eurytheme have two or three broods that take flight in eastern Washington May through October. They look like clouded sulphur butterflies but with orange patches on the dorsal wing surface and stronger eurytheme spots on the ventral wings, and are distinguished in that they reflect ultraviolet light visible to other butterflies.
This butterfly is more likely than other species to be found in farm country or in the city where its host plants are common, including legumes such as alfalfa, clover and peas.
Males have narrower, solid black edging on the upper wing surface while females have have wider black edging enclosing yellow spots, and in spring, the suphurs may have a dusting of green scales on the underside. The clouded sulphur and orange sulphur are closely related and may interbreed. Orange sulphur has a white female form which can be difficult to distinguish, but the clouded sulphur never has orange-tinted wings.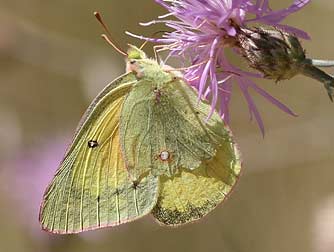 Female orange sulphur butterfly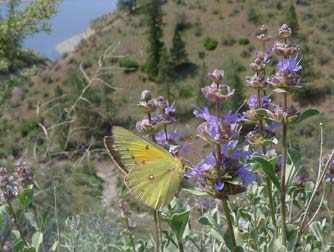 Orange Sulphur butterfly
nectaring on sedum purple sage, Lake Roosevelt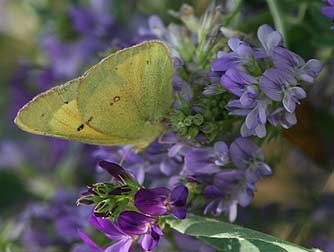 Male orange sulphur butterfly