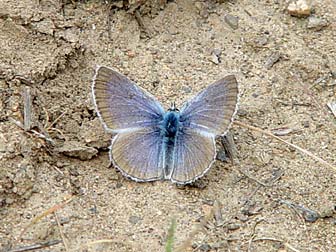 Boisduval's blue butterfly
Boisduval blue butterfly (Plebejus icarioides) caterpillars are adapted to rely only on lupines as their host plant, for food, while adult butterflies live on nectar from a variety of flowers including cryptantha and Eriogonum, or buckwheat.
The upper wing surface of males is lilac-blue with dark borders, while the female may be brown, or blue with wide dark borders. On the underside, black or white postmedian spots are larger on the forewing than on hindwing. Wingspan is 1-1/8 to 1-3/8 inch.
Subspecies of Boisduval's blue butterfly at risk of getting wiped out include Mission blue in California and Fender's blue in Oregon. In Washington, the Puget Blue subspecies found in the Puget Sound lowlands is a candidate for state protection. These butterfly populations declined because a combination of development, the plow and noxious weed infestations overwhelmed and replaced the wild lupine species their caterpillars rely on to survive.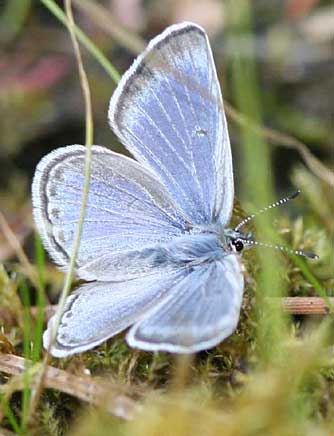 Boisduval's blue butterfly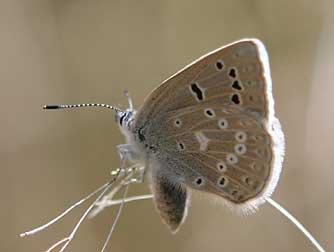 Boisduval's blue butterfly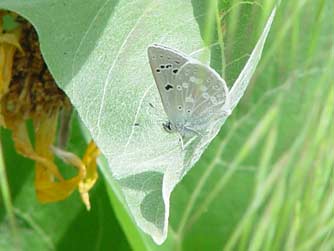 Boisduval butterfly or Plebejus icarioides
on arrowleaf balsamroot leaf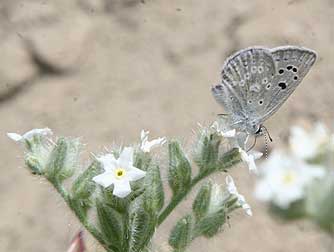 Boisduval's blue butterfy
nectaring on white forget-me-not, May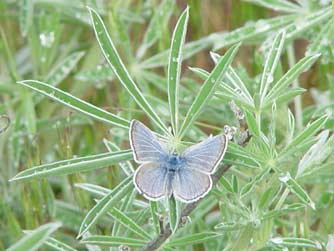 Boisduval's blue butterfly male
on a host silky lupine leaf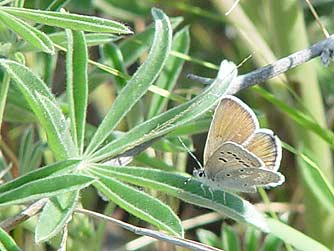 Boisduval's blue female
on a host lupine leaf