1936 Cle Elum Recreation Area map
Eastern Washington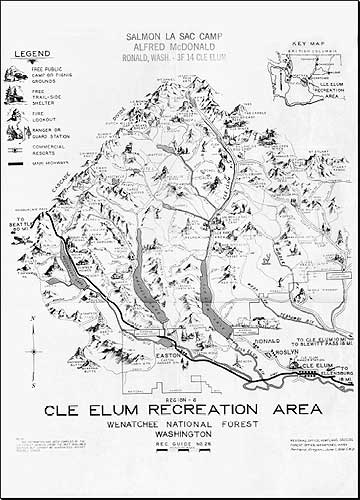 (Download PDF file below)
Classic 1936 illustrated forest service map of the Cle Elum Recreation Area, part of the Wenatchee National Forest covering the eastern slope of the cascade range in Washington State. The map area extends from Snoqualmie Pass east to Cle Elum and north to La Bohn Gap, Mount Daniel, Deception Pass, Mt. Stuart and the Stuart Range. At the center of the map is Salmon La Sac and Fish Lake.
This illustrated map was created by the U.S. Forest Service with perspective relief, drawings of lookouts, mountain sheep and goats, mountain climbers, fishermen, and vacation cabins and other features, and hand-lettered. Cartographer initials are C.W.D. apparently based at the Forest Service Regional Office in Portland, Oregon.
The map was used in the 1930's by Elsie Riley, as a young girl on a horse pack trip with her aunts Hope and Helen. She had the time of her life on this trip and kept a scrap album of pictures, drawings, pressed flowers, and this map.
The map is available in Acrobat PDF format: 1936 Cle Elum Recreation Area map.


» Eastern Washington maps collection
» Eastern Washington animals and plants
» Eastern Washington wildife areas, refuges and parks
» Cle Elum campgrounds
» Cle Elum tourism map