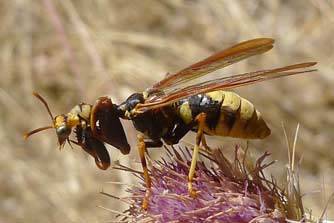 Western brown mantidfly or wasp fly (click to enlarge)
The western brown mantidfly or Climaciella brunnea resembles a golden paper wasp (and flies at the same time) but with the forelegs of a mantid. Adults prey on small insects and may be found around flowers where the hunting is good. The mantidfly lays eggs on vegetation and upon hatching, the young go hunting for anything to prey on. The larva will parasitize a wasp nest or spider egg sac if it can find it, settling down for awhile for easy living.
Climaciella brunnea ranges from Mexico to Washington east to Colorado and Nevada, and was formerly assigned to the genus Mantispa.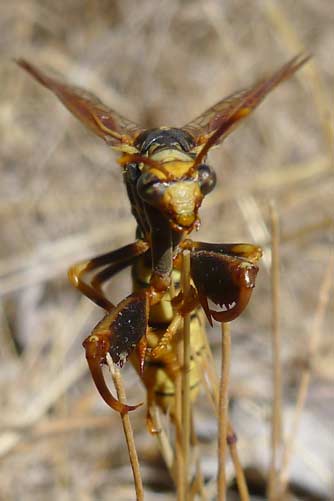 Western brown mantidfly claws (click to enlarge)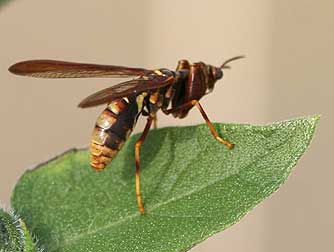 Western brown mantidfly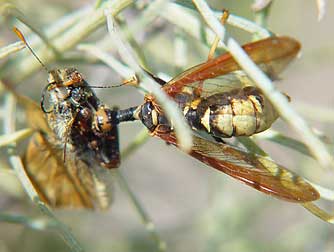 Western brown mantidfly
eating a woodland skipper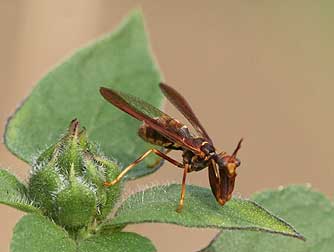 Western brown mantidfly or Climaciella brunnea
waiting on a sunflower for prey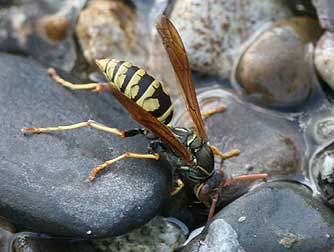 Compare to golden paper wasp