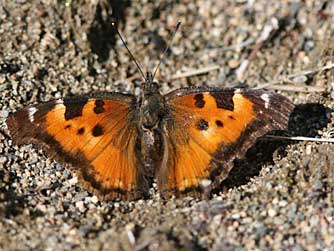 California tortoiseshell butterfly or
Nymphalis californica
California tortoiseshell butterflies (Nymphalis californica) have adapted to rely on various types of ceanothus including mountain balm as host plants for their caterpillars.
The upper wing surface is orange-brown with large black spots and dark wing borders. The underside is dark mottled brown, darker at the base of the wings; the hindwing does not have a centered silver spot. Wingspan is 1-1/4 to 2-3/4 inches.
California tortoiseshell adults emerge in June and fly until fall, then overwinter to emerge again the following spring. The tattered and worn adults show themselves in April and May, mating and laying eggs for the next brood.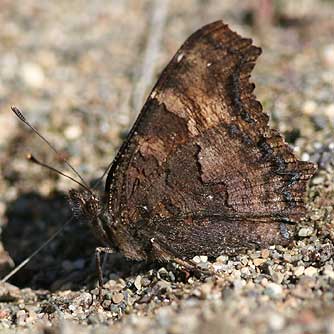 California tortoiseshell butterfly

California tortoiseshell in October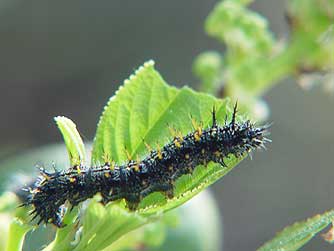 California tortoiseshell caterpillar
feeding on mountain balm