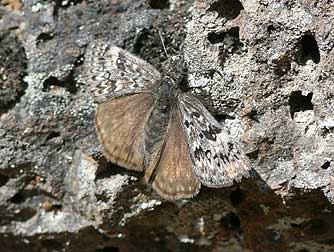 Propertius or oak duskywing -
Erynnis propertius
The propertius duskywing or Erynnis propertius is a fast-flying skipper that looks like a moth, and is the largest in the largest duskywing to be found in Washington State. Also called the western oak duskywing, this skipper depends on our native Oregon white oak as its host plant.
Propertius duskywings may be seen during spring in oak woodlands or around lone trees on either side of the Cascade Mountains. Besides a dependence on oak trees to survive, these duskywings need the mess of leaf litter to complete their life cycle-- it is unlikely to be found where the grounds are groomed and leaves raked.
Other duskywings looks similar but this one has the strongest wing pattern, and the most silvery upper wings. Wingspan is about 1-1/2 inch more or less.

Propertius duskywing on an oak leaf
Bear Canyon, Washington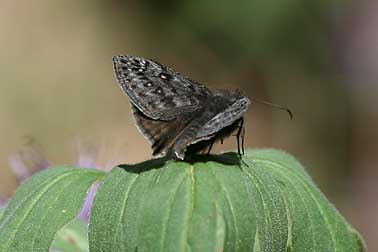 Propertius duskywing
on ballhead waterleaf plant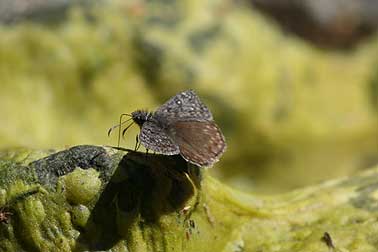 Propertius duskywing sipping water from algae