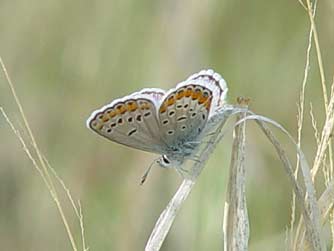 Melissa's blue butterfly or
Lycaeides melissa
Melissa's blue butterfly (Lycaeides melissa) caterpillars are adapted to legumes as their food plants, including astragalus, lupines, milkvetches, vetches, locoweeds and alfalfa, among others. The adult butterflies live on nectar from alfalfa, thistle, phlox, gold star and many other flowers.
Melissa's blue butterfly males and females look different on the upper wing surface and alike below. On the underside, both males and females are splashed with orange along the margins on both forewings and hindwings. On the upper wing surface, the males are all blue with a narrow dark border while the females are bluish brown, and have an orange margin on fore- and hindwings. Melissa's Blue wingspan is about 7/8 to 1-3/8 inch.
The Karner Blue, a subspecies of Melissa's Blue, is wiped out or endangered in several eastern U.S. states.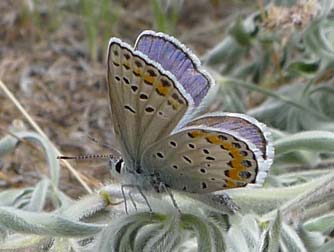 Male Melissa's blue butterfly
on a wilted silky lupine leaf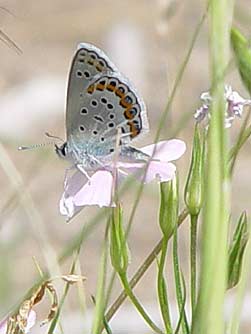 Melissa's blue butterfly
perched on long-leaf phlox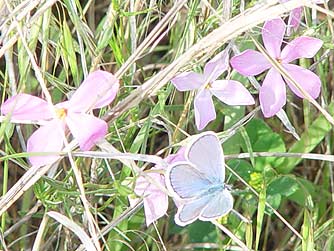 Male Melissa's blue butterfly