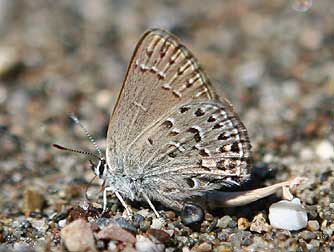 Behr's hairstreak butterfly or
Satyrium behrii
Behr's hairstreak butterflies (Satyrium behrii) can be spotted in late June and early July along the shrub steppe east of the Cascade Mountains and up the Columbia River, wherever the bitterbrush grow.
These hairstreaks have orange wings but never show their colors much-- instead, they keep their wings vertical so only the underside shows. The ventral wing pattern blends well with woody vegetation, and perhaps regulates body temperature as the butterfly turns away from or broadside to the sun. Their upper wing surface is a rich orange with brown border.
Behr's hairstreak butterfly caterpillars have evolved to rely only on bitterbrush for their food supply, while adult butterflies live on nectar from various flowers such as yarrow, buckwheats, splendid fleabane or dustymaidens.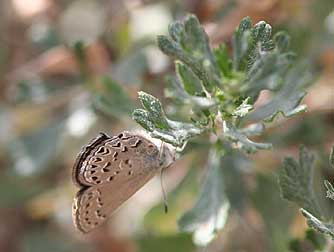 Behr's hairstreak butterfly
perched on her host plant, antelope bitterbrush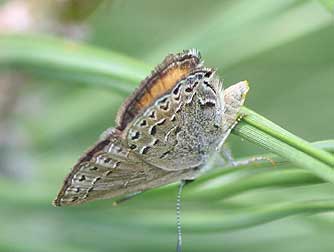 Behr's hairstreak butterfly
perched on ponderosa needles,
with view to orange-brown upper wings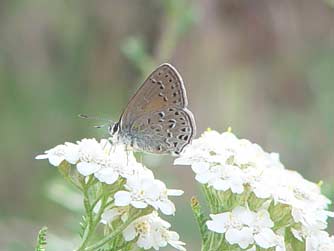 Behr's hairstreak butterfly
nectaring on yarrow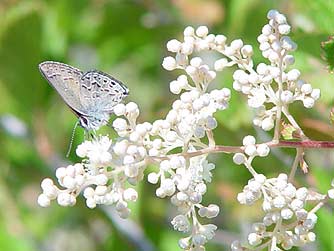 Behr's hairstreak butterfly
nectaring on ocean spray flowers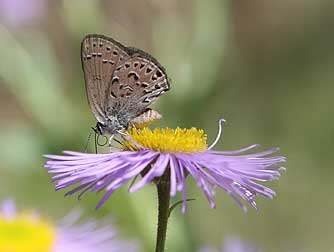 Behr's hairstreak butterfly
nectaring on splendid fleabane flower