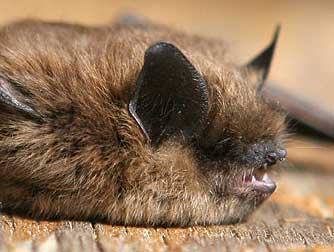 Mouse-eared bat or
Myotis
species
Seven species of mouse-eared bats live in Washington State with several inhabiting the semi-arid shrub-steppe of eastern Washington.
These little brown bats take flight at dusk to forage for night-flying insects that include tiny midges and gnats, pests such as mosquitoes, flying termites and beetles, crane flies and moths, and aquatic insects like caddisflies and mayflies.
Habitat
Mouse-eared bat species favor a variety of natural habitats, with many preferring to be near water where insects are abundant and drinking water easy. Night roosts may include tree cavities and loose bark, rock crevices, caves, and structures including bridges and buildings. Several myotis species just love hot attics and house walls, where colonies may grow to number over a thousand bats. These bats hibernate in caves, mines and buildings. The kidneys of California Myotis bats are adapted to arid environments, and these bats favor ponderosa pine trees for roosting. Another bat of the arid west, the Western small-footed Myotis bats like to roost in cliff cavities, under rocks, talus and in banks.
Identification
Mouse-eared bats are small with brown to blond fur and jet-black wings, and are difficult to distinguish from each other without handling them closely or analyzing their unique vocalizations. California Myotis, for example, is a delicate looking myotis bat having a more spherical skull shape and distinguished by a uniquely-shaped keel in the membrane between its hind foot and tail, which may be used as a pouch to help catch and hold insects. Western small-footed myotis bats have a black face mask that extends all the way to the ears.
Distribution
Mouse-eared bat species range from Mexico to Alaska, with some myotis species living in every part of Washington State. Bats are among the least studied animals in the state.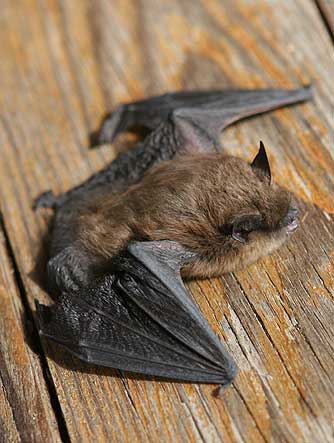 Mouse-eared bat or myotis species
possibly California myotis or Myotis californicus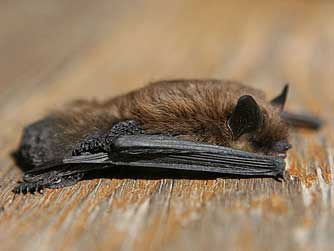 Mouse-eared bat or myotis species
down bat, tested positive for rabies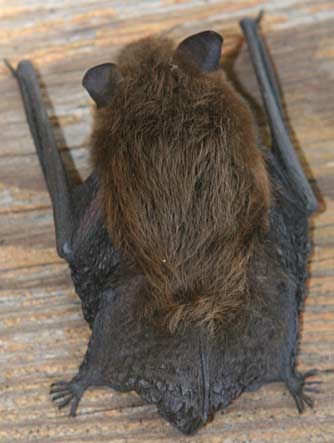 Mouse-eared bat or myotis species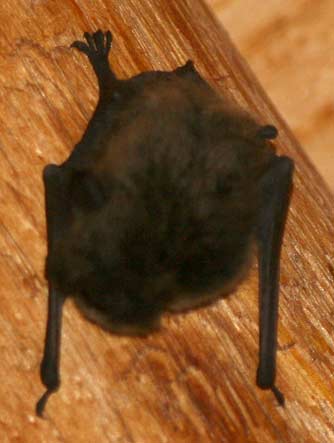 Mouse-eared bat at night roost